Since 2013 we have been producing luxurious cashmere pieces that make people happy and are made to enhance our lives.
Each of the products evokes unique comfort and a feeling of security. Our trademark is the close connection between traditional craftsmanship, the best quality and innovative design. Each cashmere piece is unique - developed with passion, carefully handcrafted and dyed in an environmentally friendly way.
LEOMAX Cashmere implements fair trade principles and sustainability in a socially responsible manner and is strictly against child labor. As an international label, it stands for cosmopolitanism, modern zeitgeist, sustainability and the highest quality standards - but always surrounded by a touch of luxury.
Ulrike Boye-Holzer, founder and CEO of LEOMAX Cashmere, has many years of professional experience in consulting and business development in Germany and the United Arab Emirates. After living in Dubai for many years with her husband and two children, she currently resides on the Mediterranean island of Malta, but has also called Cologne and Paris home.
During a trip to Nepal in 2011, she first came across the finest handcrafted cashmere products, such as it they were seldom elsewhere at the time. "Once touched and already enchanted..." and that's how a business idea came about. It took two years and numerous trips to Kathmandu to find the perfect manufactory and develop a first cashmere collection. It was so popular that partnerships with high-quality retailers, premium department stores, hotels and airlines were formed shortly thereafter.
Inspiration from many worldwide trips, regular meetings with our producers in Nepal, who have now become friends, always looking for new ideas - this is how the special features of the LEOMAX Cashmere collections come about.
Our passion for Cashmere and our admiration for the Nepalese culture, combined with creativity and determination reflect the philosophy of our company - enthusiasm for pure design and the best quality, appreciation of traditional craftsmanship and sustainability.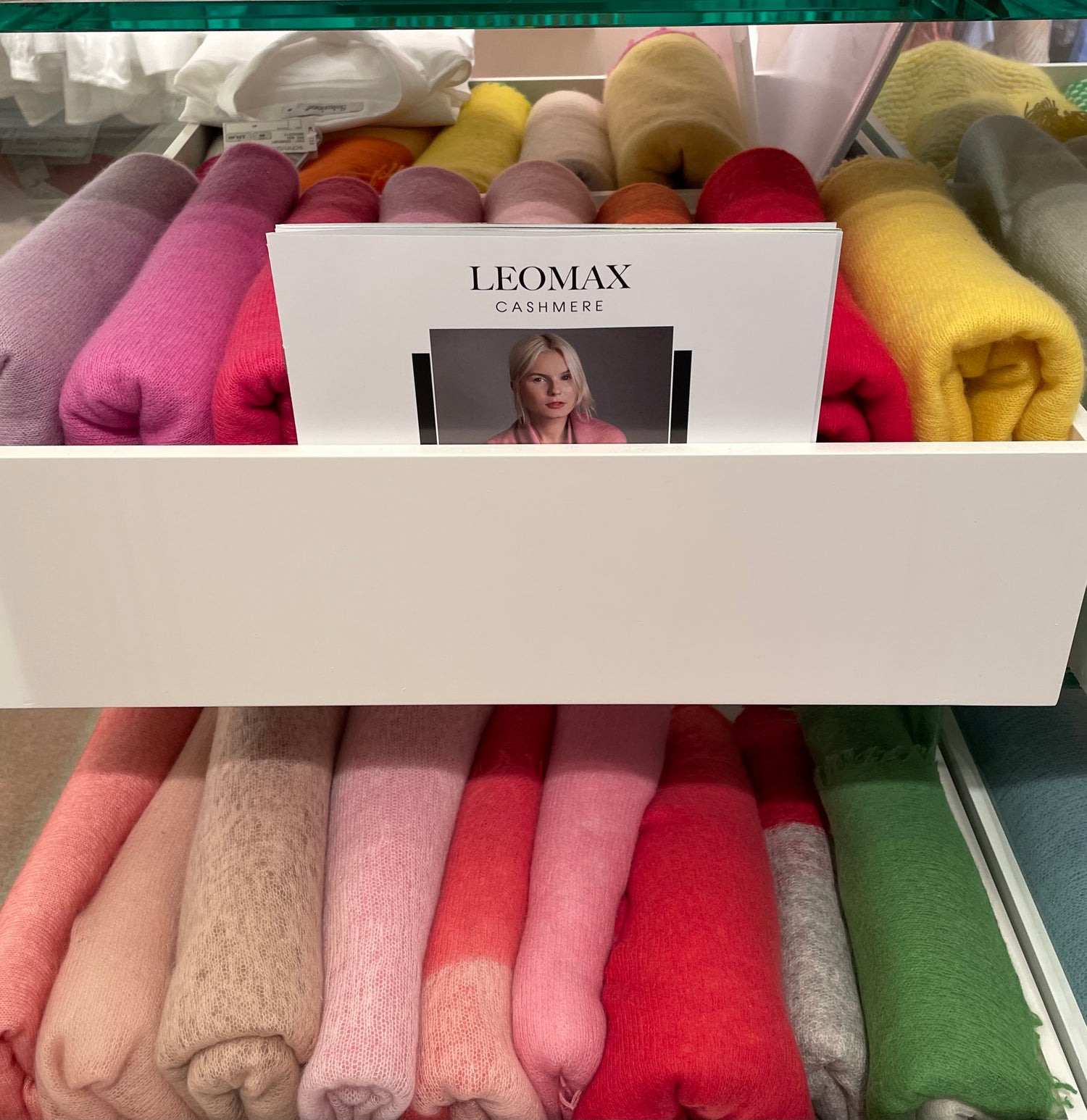 Today we work with a dedicated international team. We are supported by well-known fashion agencies with beautiful showrooms in several countries. We are particularly proud of our unique selling proposition: we listen carefully to the wishes of our customers and manufacture our very popular Cashmere shawls TADESHO as an individual custom-made product in their favorite color - with 120 color options to choose from.